We drive, you relax !
Tại sao chọn chúng tôi
Xe đẹp , nhiều xe , giá cả hợp lý.
Lái xe chuyên nghiệp , thân thiện , yêu nghề.
Tổng đài làm việc 24/7
Dịch vụ uy tín , chất lượng
Luôn có điều hành trực đón khách giờ hành chính tại sân bay.
10 Best Places to visit in Viet Nam in 2022
Coming to the S-shaped country, you can admire the poetic and charming scenery wherever you go. The natural beauty and unique culture have made Vietnam become a tourist destination worldwide. Here are the top 10 places to visit in Vietnam nominated in 2022.
It is always worth visiting the capital city of any country. In Hanoi, your mind will be blown away by the subtly busy Old Quarter – 36 Streets. You will live the historic moments walking along Long Bien Bridge.
You will love every single second of riding around Truc Bach Lake and finding yourself a good coffee spot to sit down and enjoy a hot egg coffee. And when the sun goes down, get yourself to the Main Cathedral, sit on those red stools and join the locals for lemon tea and sunflower seeds.
Hanoi is one of the few places in Vietnam that has four seasons. Because of the characteristics of a humid monsoon tropical country, Hanoi's climate in the winter and summer is quite harsh. The winter in Hanoi is so cold; sometimes the temperature drops deeply below 10 °C, meanwhile, the summer is very hot, sometimes stormy. According to the experiences of many travellers, you should visit this city in the autumn.
2. Ha Long Bay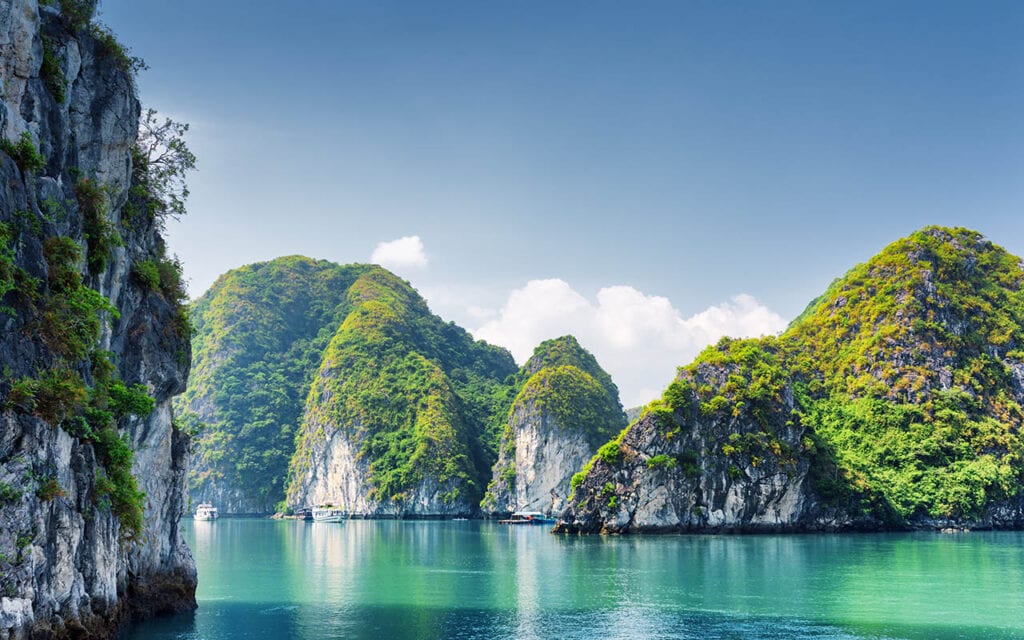 Off Northeast Vietnam, Ha Long Bay was designated as one of the World Heritage Sites in 1994. For many reasons, Ha Long Bay has to be on your list when you travel to Vietnam.
Having been known for thousands of limestone islands that emerged from the emerald water, the bay is surrounded by a spectacular seascape. You will want to sign up for a boat trip to cruise along the maze of channels and uniquely shaped islets. You can also go kayaking and caving to experience the enchanting beauty of this wonderland.
Although it can get very touristy during the high season, with what it has to offer, Ha Long Bay is totally worth your visit.
The best time to visit Ha Long Bay is in the summer (May – October) when its weather is warm, less rain, convenient for outdoor activities and exploring.
In 6th place, Sapa meets all the elements to become one of the best places to visit in Vietnam: the small villages like the picture painted on the majestic hills, upland markets, and the identity of ethnic minority communities.
Although the main town itself has been said to be too touristic and going through lots of construction, it gives you a reason to go out of town and immerse yourself in one of the most beautiful highland cities in the country. Meeting up with the innocent local minority people and being amazed by terraced fields – breathtaking scenery will be your unforgettable memory.
Sapa is a mountainous region with a cool climate all year round. The weather in Sapa has four seasons. The average temperature of Sapa is 15 °C. Summer in Sapa is not too hot; winter is often cloudy and cold, and sometimes it snows.
The best time to visit Sapa is from September to early November, at this time, rice begins to ripen, and the scenery of Sapa turns to the brilliant golden colour of the rice, a picturesque view.
Used to be one of the hidden gems in the north of Vietnam, Ninh Binh has become more and more popular among both local and foreign visitors after being chosen as the blockbuster Kong's filming location. But Ninh Binh is not all about that.
This is home of one of the biggest temples in South East Asia (Bai Dinh Pagoda), which is solemnly situated amid the lush paddy fields and breathtaking rock formations. The best way to explore the renowned landscape complex is by rowboat to bit-by-bit take in the majestic and poetic scenery. Ninh Binh will truly give you a sense of the spiritual calmness coming from the splashing water under your boat and distant temple bells echoing.
You can visit Ninh Binh at any time of the year, each season in Ninh Binh has a unique beauty that is nowhere to be found.
Hue is the former imperial capital of Vietnam under the prosperous reign of the Nguyen Dynasty, which explains a rich collection of tombs, palaces, and royal buildings. That is also the highlight of this romantic city.
Strolling along the gorgeous Perfume River, crossing Trang Tien Bridge just to later sit down and take a sip of cold Huda beer.
Hue is definitely not a tourism hub but if you are keen on an atmosphere with a breadth of history, then Hue would be your perfect choice.
Located between the South and the North, Hue weather is characteristic of both regions. Hue has four seasons, but the most obvious are sunny and rainy seasons. The dry season lasts from March to August, it is quite bright and hot. From August to November is the rainy season. Especially from October onwards, there are prolonged rains and storms.
Noted as another World Heritage Site of the long-stretching nation, the Ancient Town of Hoi An carries not only the diversity of settings but also the history of hundreds of years of cultural interference between the three countries of China, Japan, and Vietnam. You will need to be ready to fall in love with the mix of vibrant lifestyle and ancient architecture of this little town.
Hoi An is also famous for a wide range of delightful cafes and restaurants of those overlooking peaceful views. Even for a local, the town's delicacies are definitely one-of-a-kind, and it will give you a hard time picking among all the good food.
As the most beautiful city in Vietnam, Hoi An is crowded year-round, the tourist season starts from November to the end of February. If you want to enjoy a "real" Hoi An, April to June is the right time for you, when there are the least tourists.
Further north of Hoi An is a beautiful coastal city – Da Nang. Da Nang is a tropical sea paradise in Vietnam; it has some of the most beautiful and secluded beaches such as Non Nuoc Beach, which is almost never too busy. It would make you extend your staying here with its spectacular mountain temples, well-decorated bars and restaurants, and so much more. It is not random that many expats choose to relocate here as you can easily find a hint of the modern lifestyle of a big city blended into the tranquility of the natural surroundings.
If you are an adventurous soul, get on a motorbike and go for a road trip around Son Tra Peninsula, then set out to conquer the Hai Van Pass or simply walk the majestic Golden Bridge.
The ideal time to visit Da Nang is the dry season from January to July, and the most perfect is between February and May. During this period, the weather is pleasant and less rain.
As one of the most beautiful coastal cities in Vietnam, Nha Trang has been recognized as a tropical sea paradise. Not only do long blue beaches and dozens of large and small islands remain untouched, but Nha Trang is also an ideal destination for those who love culture – history as it is also the land of the flourishing Champa Kingdom in the past.
Visit Nha Trang, immerse yourself in the refreshing water, dive down to the coral reefs, discover islands by canoe, and enjoy fresh seafood.
The most significant advantage of this city is the long sunny season during the first eight months, the temperature difference is not considerable. The rainy season of Nha Trang lasts from September to December and reaches its peak in October and November.
Nha Trang is definitely an indispensable name when it comes to the best places to visit in Vietnam.
Mui Ne is another coastal city to add to your list. Unlike any other beaches, Mui Ne is a paradise for those into extreme water sports. You can do from snorkeling, diving to surfing and parachuting. Riding past miles of white and red stunning sandhills on one side and feeling the ocean breeze blowing from the sea from the other side, you will know why this destination keeps popping up in travel conversations. And of course, live seafood is freshly brought to restaurants from the fishing boats will fulfill your visit.
Mui Ne is not only good for motorbike trips but also the best place across the country for water sports. November to April is the windy season making it perfect for kitesurfing and windsurfing. Other activities such as parasailing, kayaking, and motorboating can also be spotted. Make sure you eat at one of the food stalls set on the beach for an unforgettable dining experience.
When talking about the best places to visit in Vietnam, it's impossible to ignore the biggest city in the country: Ho Chi Minh City.
Ho Chi Minh City (Saigon) is the most developed and somehow chaotic city across the country once known as the Pearl of the Far East. Although Saigon is not rich in natural resources, it has a wide range of street food and nightlife activities to choose from.
And if your heart is up for knowledge, there is a list of museums and galleries scattered around the city so you can check them out and explore the city at the same time.
Chinatown is also the soul of the dynamic city filled with century-aged temples and shops – where you can give yourself a break after play-hard days. It is no exaggeration to say that Saigon has it all.
Ho Chi Minh City weather does not have four seasons like Hanoi but only two: rainy and dry. The rainy season is from May to November. In general, you can visit Ho Chi Minh City at any time of the year, the rainy season is also the most beautiful season of this city.